East meets the West
A City Guide to Asia's World City
For me, Hong Kong has been a city of many things, a long-time childhood home, a haven for foodies, and a rare international port that forms an important gateway between the East and the West. However long I have been away, the city never feels like a stranger when I return.
What is truly unique about Hong Kong is its ability to adapt to the challenges of a modern international city without losing its character and traditions. As one of Asia's largest business hubs, it's filled with the most powerful global brands, housed in enormous shopping centres and endless skyscrapers. Yet alongside, thriving and successful independent cafes, restaurants, and stores flourish,  fuelled by the expat communities the international city brings.
As a frequent visitor, I showcase a few worthy destinations you should hit up if you ever find yourself coming to this complex and ever-changing city. 
Retail
Address: 35 Aberdeen Street, Central, Hong Kong
Telephone: +852 2870-2335
Website: www.pmq.org.hk
instagram: @pmqhkdesign
Located between Central and Sheung Wan, PMQ was originally a 1950s police headquarters which has been revitalised into a retail and office building and serves as an important creative hub for its local creative industries. Working in conjunction with the HK government, the site has been preserved strictly for such uses.
Here you will find a variety of high quality local and international brands, showcasing and appreciating the value created by innovative design and services. My favourites include Found Muji, FABcessories, and the Jason Atherton restaurant on the G/F, Aberdeen Social.
COFFEE and Sightseeing
Address: Star ferry pier shop, tsim sha tsui, Hong Kong
Telephone: +852 2809-2913
Website: www.arabica.coffee
instagram: @arabica.coffee
With over twelve stores located across the world including Japan, Hong Kong, Kuwait, and the UAE, this rapidly expanding chain has been a regular pick me upper whilst I was in HK. With three in the city, the one located at the TST is my favourite.
Hidden one level above the pier, the minimalist and contemporary counter uses a customised Slayer espresso machine to pump out quality coffees with a variety of blends sourced seasonally from Brazil, Ethiopia, Guatemala and Japan.
The location makes it easy to get to, simply take the Star Ferry to TST from Wan Chai on a clear day for skyline views of the city and get an amazing cup of coffee at the end of it - hit two birds with one stone.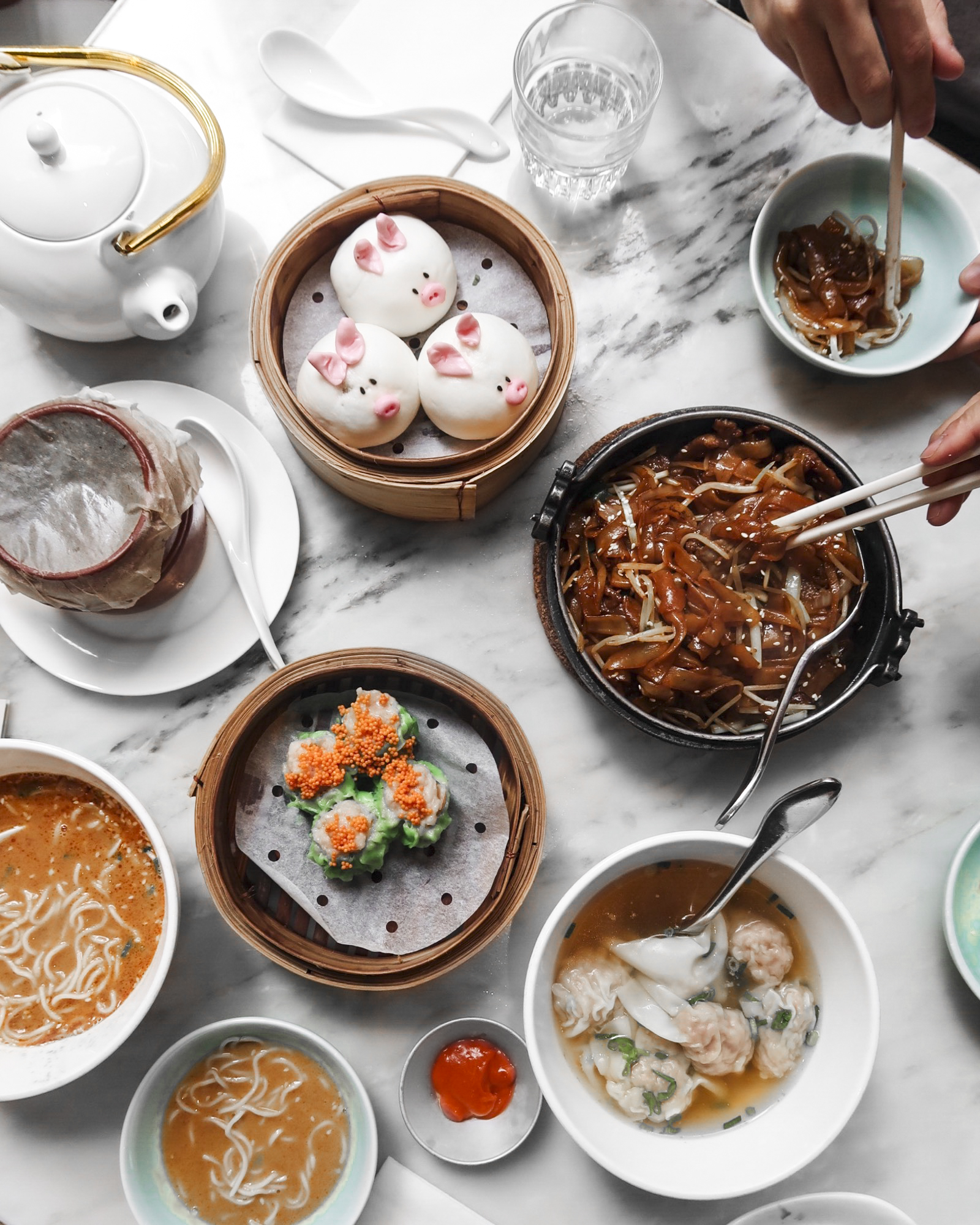 Restaurant
Address: 173 Des vouex road, Central, Hong Kong
Telephone: +852 3708-8081
Website: www.yumchahk.com
Instagram: @yumchahk
Implied in the name of the restaurant, Yum Cha is to have 'Dim Sum', a breakfast / brunch of choice for most locals. 'Dim Sum', which in literal translation, is to touch one's heart, is a style of Chinese cuisine prepared as small bite-sized portions of food served in small steamer baskets or on plates for sharing.
Whilst you can find many fine and traditional places scattered across the city, what Yum Cha delivers best is the delectable oddities it serves up. The dishes represent a fresh take on on a traditional and important type of cuisine, without sacrificing quality and taste in the pursuit of novelty.
My favourites include the steamed BBQ pork buns and oozingly delicious custard buns. Definitely give these an order and you'll see why. Get your IG cameras ready...
Architectural and Cultural
Address: 9 Justice drive, Admiralty, Hong Kong
Telephone: +852 2103-9511
Website: www.asiasociety.org/hong-kong
Instagram: @asiasocietyhk
Located within the mid-levels of Hong Kong, Asia Society HK is tucked away between the ground level city of Hong Kong and the peaceful residential echelons of the upper class.
The original colonial British military established have been refurbished and maintained to host a variety of cultural and art exhibitions. Here you will find peaceful serenity in an otherwise busy and loud city, with unbelievable views of Hong Kong Island.
Afterwards, head below to the on-site restaurant, Ammo, for afternoon tea service whilst enjoying luscious views of the forested canopy from within a hovering enclosed glass terrace.
Retail
Address: 1-4 St. Francis yard, wan chai, Hong Kong
Telephone: +852 2804-2323
Website: www.monocle.com
instagram: @monoclemagazine
Monocle is a global affairs magazine with this shop being one of brand's many city stores across the globe. It houses a modern day essentials and lifestyle accessories for men. This particular store was the first of a new hybrid retail/news gathering concept for Monocle.
Do visit them to pick up a free brochure guide to Wan Chai, the neighbourhood it resides in, where you will also be able to find a variety of similarly trendy businesses and lifestyle shops in the surrounding area.
The staff are very knowledgable and friendly, a good starting point if you're in the area. The subscription is also worth picking up. Full disclosure: If you haven't picked it up already, I'm a big Monocle reader.
Cafe
Address: 1 U Lam Terrace, Sheung wan, Hong Kong
Telephone: +852 2540-2210
Website: n/a
instagram: @lof10hk_official
Hidden away on the slopes of Sheung Wan is this minimalist retreat, serving cupfuls of productivity (and coffee) for its guests. Unlike the other coffee corners in Hong Kong, the cafe is able to offer something that is often hard to come by in this fast-paced city - a bit of peace and quiet without the hustle and bustle of crowds.
Highly recommended for bloggers and working nomads alike looking to find a decent cafe that doesn't involve pumping your headphones on at max. Fair warning, it's an uphill climb from Sheung Wan MTR station, but its a fair price to pay for the work you'll get done right?
Hotel and Restaurant
Address: 88 Queensway, admiralty, Hong Kong
Telephone: +852 2913-1838
Website: www.upperhouse.com
instagram: @upperhouse_hkg
The Upper House is undoubtedly one of Hong Kong's best hotels for the well-heeled traveller. A combination of Asian and European luxury design alongside panoramic views of the city from the heights of Admiralty is a few of the perks you pay for when staying here.
Designed by one of Hong Kong's most respected architect, Andre Fu, the place creates an understated feeling of calmness, conveying both form and function with its discreet and minimal design. Originally built as serviced apartments, the Upper House is the best of both worlds, you get the benefits of a top-notch hotel service with the residential touch to make the place feel more like a home away from home.
The restaurant on-site, Cafe Gray, also has one of the best bar and lunch services in town.
CAFE
Address: 200 Queen's road, wan chai, Hong Kong
Telephone: +852 2804-2323
Website: www.ooo-koffee.com
instagram: @omotesando.koffee
Imported from Japan, this popular minimalistic cafe serves authentically sourced Japanese beans good enough to rival its premium Arabica counterparts. Omotesando Koffee started as a pop-up shop in the back streets of Harajuku, a well-kept secret in Tokyo, serving exceptionally pristine espresso from locally sourced beans. The shop was originally supposed to be open for just 12 months but has since expanded to three permanent sites across Japan including Tokyo, Kyoto, and Toranomon.
After expanding to Hong Kong two years back, the cafe continues to be the first expansion outside of Japan. It is no wonder why both locals love it, the quality of coffee combined with its clean cut aesthetics makes it a worthy destination to enjoy a fine cup of Japanese "koffee" without hopping on a three hour flight for one.
Do order yourself a tamago egg sandwich on the side, it's absolutely delightful.